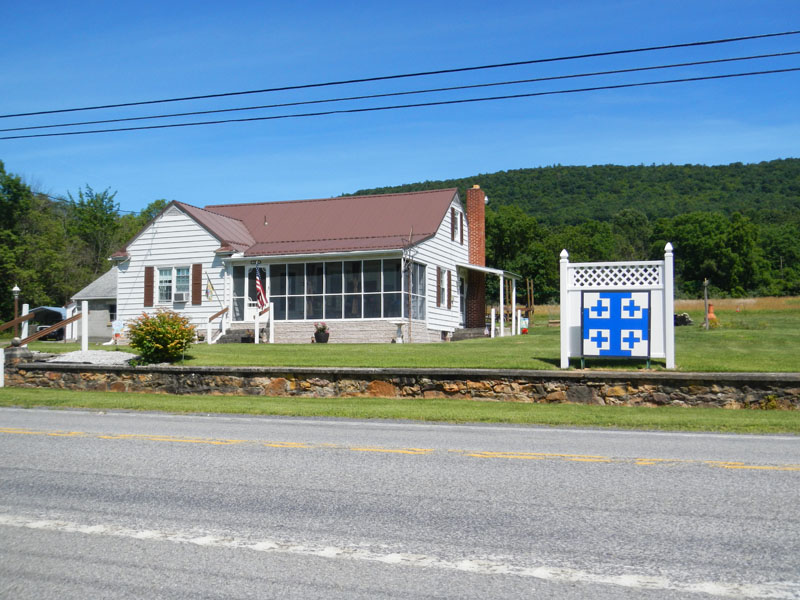 Jim and Becky Cutchall
23064 GREAT COVE ROAD
17233
Municipality: McConnellsburg
Structure: 6152
GPS: 39.9643 -77.976620
---
Pastor Robin's Story
When I moved to Fulton County in June of 2014 to be pastor of the United Methodist Church, I was enchanted by the meaningful artistic expressions known simply as "Barn Quilts" bedecking front porches, garages and barns. Since I would not be owning any of those venues, I thought myself unable to participate in this charming country tradition. A new friend quickly assured me that I could put one up on posts. I immediately got to thinking, "What powerful symbol has meant a lot to me that I would like to share with the world?" Behold! A Jerusalem Cross!
I was introduced to this ancient cross at seminary because it was the crest of the institution.
An equilateral cross stands proudly in the center representing Jesus Christ. The smaller crosses stationed in the quadrants made by its arms represent the good news of Jesus going out to the four corners of the world. I chose the vibrant blue not only because it was my alma mater's
color, but also because it would stand out noticeably from its surroundings.