Sponsors
---
Become a Frontier Barn Quilt Trail of Fulton Co., PA Sponsor

The Frontier Barn Quilt Trail of Fulton Co., PA is an entirely self funded project made up of local volunteers who have come together to create a local barn quilt trail throughout all of Fulton Co. Started in the summer of 2014, the project has been enormously successful with over 120 barn quilts.
However, it is very important we secure funding through sponsorships, to properly promote and maintain the Trail going forward. The trail is attracting visitors practically every day, and your sponsorship will provide the funding to keep drawing these "out of the area visitors" and their dollars into our community. The folks of Fulton County have always been generous when it comes to supporting local projects, and we look forward to you becoming one of our very valued sponsors.

---
There are three types of sponsorship: Community, FBQT Sponsor and VIP Sponsor.
Community Sponsors: Local businesses or individuals who sponsor a barn quilt are declaring they care about their community. This sponsorship allows you to select an already existing individual quilt block on any of our trails as your featured quilt block. As a Community Sponsor, your business or personal name will be highlighted on our Trail Map and Quilt Directory page here at www.frontierbarnquilttrail.com. along side the quilt block you choose to sponsor. And lastly, there will be a live link leading right to your organization's web page if you so choose. The investment to becoming a Community Sponsor is $100

FBQT Sponsors: For bigger exposure, you can put your business brand up in lights with a full display ad and live link on our Sponsorship page here at www.frontierbarnquilttrail.com. All FBQT Sponsors will be provided a 2' x 2' barn quilt block (of their choosing*) to be placed at a location visible from a road, of which will qualify you to be on the Trail, along with all the photos and stories about your business or your quilt block selection. This sponsorship sustains your local trail by keeping the marketing and promotion of the trail both fresh and functioning. $250 is paid annually to the Frontier Barn Quilt Trail of Fulton Co. PA... 100% of these funds goes towards your local Barn Quilt Trail to defray ongoing costs of maps and brochures.

VIP Sponsors: Covers the balance of the website maintenance and ongoing expenses. These sponsors get the choice locations here at www.frontierbarnquilttrail.com. VIP Sponsors can choose between two packages:
Featured Banner Sponsorship: A banner ad shown on a section of the site of your choosing, $750 per year, or

Random Display Sponsorship: A banner ad randomly displayed placement on non targeted areas, $500 per year.

This is a great opportunity to highlight your business and to invite visitors and tourist to pay a visit to your location, Fulton County "Pennsylvania's Best Kept Secret", and the Second Largest Barn Quilt Trail in all of Pennsylvania.

*With Limits
---
---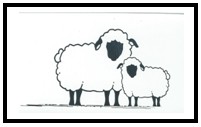 The Guest House At Sheep Ridge Farm

794 Peach Orchard Rd P.O. Box 132
McConnellsburg PA 17233

Call for reservations: (717) 485-4902 or (717) 860-6504
Email Contact: garberlinda@hotmail.com
Check out the Guest House: www.sheepridgefarm.com

Owners: Linda & Loy Garber

Proud to sponsor the Frontier Barn Quilt Trail of Fulton