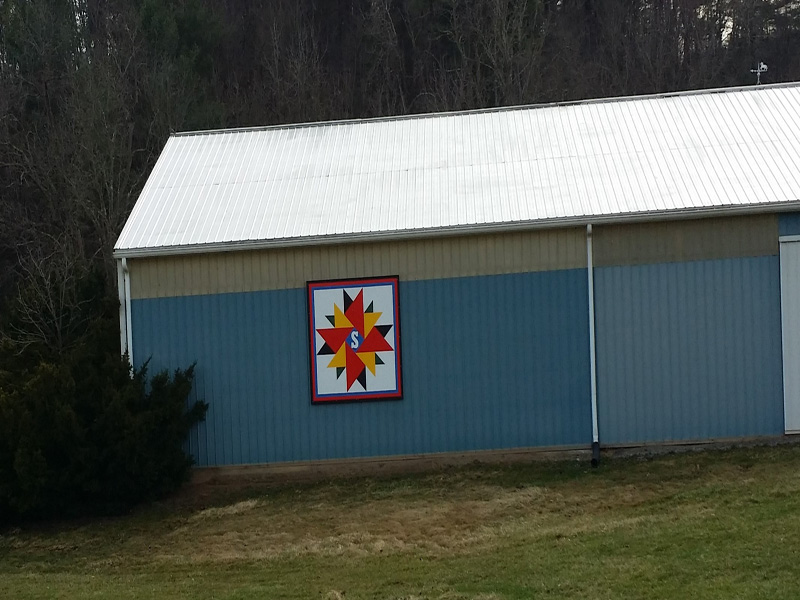 Penny Shives
11095 LINCOLN WAY WEST
17233
Municipality: McConellsburg
Structure: Barn
GPS: 39.997357 -78.097434
---
Penny (Sipes) Shives grandmother, Lena Sipes had always put up her quilting frames in early Fall and kept them up until late Spring, in what she called her sewing room. Lena enjoyed the hours spent alone working on her quilts, but she enjoyed even more, the times when she was able to quilt with family members and her many friends. Lena also spent many hours quilting with friends at the Green Hill Sewing Club located in Harrisonville, just up the road from where this barn quilt is hung.

Lena had a special knack at quilting very colorful, bright and often times "Crazy Quilts" of which she really loved. Her creativity in patching together colors, and different fabrics whether it was  matching flannel with cotton or denim or many other fabrics, her quilts were always lively and   cheerful. Although Lena quilted traditional patterns, quilting the "Crazy Quilts" were her passion especially when she quilted them with her signature colorful and bright colored fabrics. Many of Lena's quilts have become family heirlooms, of which her family truly cherish today.


The Sipes and Shives family have been a part of Fulton County long before Fulton County was a  county. Fulton County soil runs deep in the Sipes and Shives Family blood. It has been stated the grounds on which the Green Hill Sewing Club is located was donated to the fledgling club when they first got started by the Sipes family.
 Barn on which this quilt block is hung is used for farming needs and it is filled with farm equipment, hay, straw and a local critter or two every now and then. J Farming is a big part of   the Sipes and Shives family as it always has been; much like that of many other Fulton County  families who depend on farming for their livelihood.