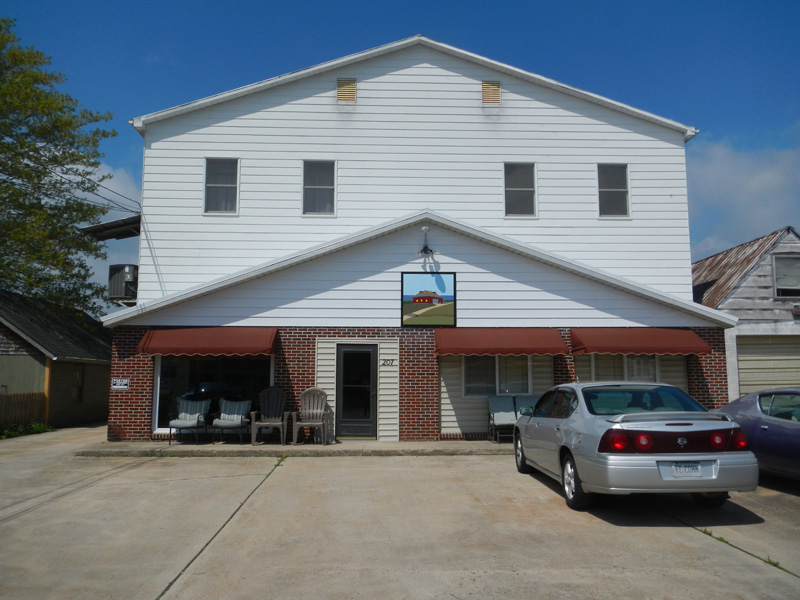 Mike Garlock
207 S 7TH STREET APT E
17233
Municipality: McConnellsburg
Structure: House
GPS: 39.92837 -77.991488
---
From the Fulton County News, July 1925:
"An interesting barn has been put up and is nearing completion on the farm in Todd Township where Willis Mellott is conducting a dairy serving McConnellsburg patrons.  It is a circular barn, the only one, it is said, in Fulton County.  To begin with, this kind of constuction is difficult, but as Commissioner Jacob Mellott and his sons are geniuses in lumber and building, they have succeeded in every stage."
"The roof is on - of metal.  Painted tin sheeting in imitation of red brick is to be nailed to the diagonal sheeting which forms the side. 
The central part of the barn is a circular mow.  This has a surrounding driveway. Fronting to the driveway is a partial circle of feeding troughs, stanchoins, etc. for the cows, as a portion is fitted for horses and other stock with a mow over this portion.
The barn simply sets on flat ground and the inside space is to be concreted for a floor.  Running water will be one of the labor-saving features installed. 
The cost of this barn is expected to reach four thousand dollars, and it sits on a farm of two hundred and seventy acres.
"

The farm was purchased in 19  by Marl Garlock.  In 19   an adjacent barn caught fire, and
its west side concrete block wall fell on the round barn.  It was decided that the round barn could not be restored.