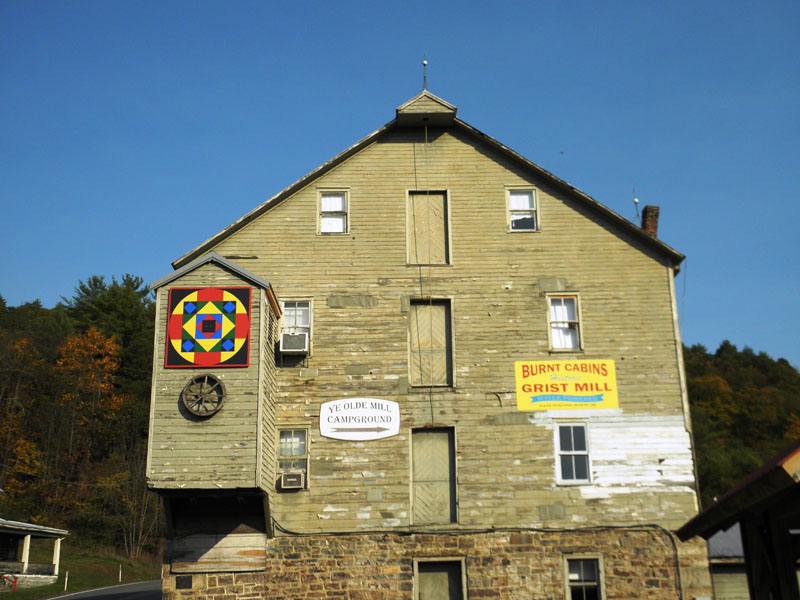 Dawn and Greg Harnish
582 GRIST MILL RD
17215
Municipality: Dublin Township
Structure: 1384
GPS: 40.077288 -77.887649
---
Begin a delicious morning tradition with your family!
The grindstone is the heart of the Burnt Cabions Grist Mill. Without it grain is not ground and pancake mixes are not produced. Millstones are pairs of stones used in grist mills to grind wheat and other grains. The bottom stone (bedstone) is stationary, and the top stone (runner) is the stone that actually does the grinding.

Built in 1840 by the Dubbs Family, the Burn Cabins Grist Mill has a long history of producing quality flour, corn meal and baking mixes. The Mill has changed ownership throughout its history but has maintained a longstanding reputation for quality products.
Greg and Dawn Harnish became the eighth owners of the 175+ year old mill in 2006 with the vision to continue the delicious tradition that has become Burnt Cabins Grist Mill products. Building on existing tried and true recipes, the Harnish family has expanded the product line to include several specialty and seasonal mixes. Regionally grown grain and corn are ground into flour and corn meal the old fashioned way. They are then used in the line of all natural pancake mixes produced in micro batches at the Mill. Each bag is filled and tied by hand with the old fashioned miller's knot.
Each member of the family is involved in the production of their all natural products, from Greg doing the grinding; to son, Ben, and daughter, Shelby, packaging the mixes by hand; to Dawn marketing and promoting the products. Over the years the family has spent countless hours together growing their family owned business and preserving the time tested traditions of the Burnt Cabins Grist Mill. Browse our family's line of all natural pancake mixes, flour, and corn meal.

www.historicmillandcamping.com

"Old fashioned, hand-crafted goodness from our family to yours!"