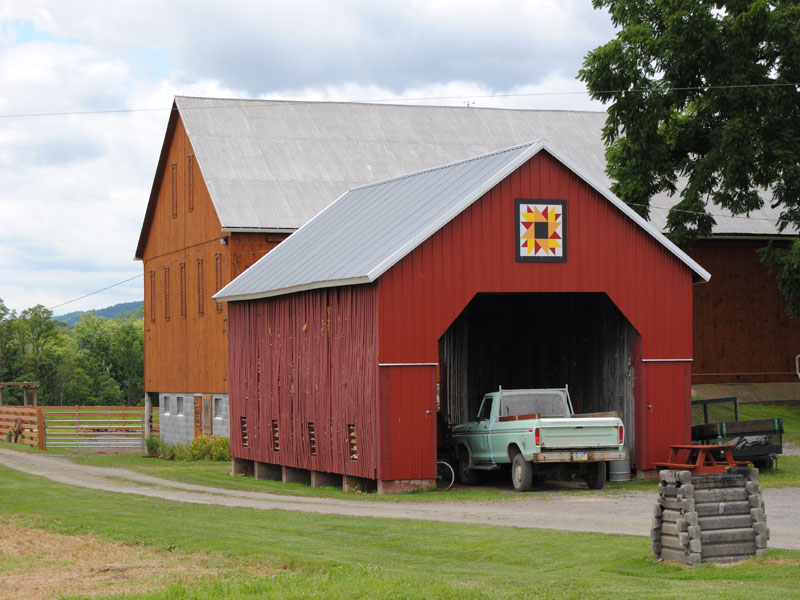 Lisa Daniels
BACK OFF ROAD 858 UNION CHURCH RD
17233
Municipality: Ayr Township
Structure: 3240
GPS: 39.868076 -78.006579
---
Special Note:
This quilt block is currently not visible from the road. However, please feel free to drive back our lane to view this beautiful quilt block and Sunflower representation.

Our Story:
Our love of sunflowers made the selection easy for our barn quilt. Since we raise sunflowers on our farm each year, we chose the Sunflower Pattern because of its bright and cheerful design. We love seeing the sea of smiling faces in full bloom each summer. While their beauty only lasts a short time, we have taken many pictures to enjoy them year round. Once the sunflower seeds are harvested, many are sold to local residents to feed the birds over the winter, while the surplus is sold to the mill to be added into whitetail deer feed.
The Barn Quilt Trail is such a blessing to Fulton County. Each one is a reflection of the heritage and character of the families residing there. Our "Sunflower" farm is a family operation and offers a bit of peace and solitude since we are off the beaten path. Feel free to drive back our long lane and enjoy.
Be a Son-flower … follow the Son and sow seeds of faith that will multiply. "For the LORD God is a sun and shield: the LORD will give grace and glory: no good thing will he withheld from them that walk uprightly." Psalm 84:11