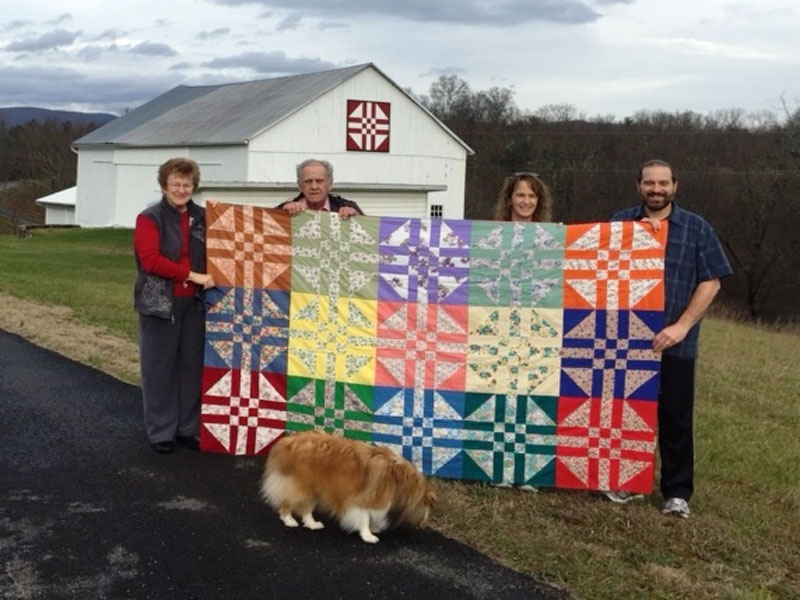 Helen Layton
1792 LAYTON RD
17267
Municipality: Brush Creek Township
Structure: 5443
GPS: 39.831643 -78.269582
---
The Barn:
The farm has been in the Layton Family since the mid 1700's. For the last 6 generations there has been only one son and 5 of them have all occupied the farm Our son, Alan, is the 6th generation. We are not sure the exact date the barn was built but Bob's Grandfather, Carey, stated the barn has been there for most of these generations.
The barn is framed with hand hewed logs held together with wooden pegs. The foundation was built of large stones. Most of these stones are still holding the barn. We presently use the top of the barn to store our hay and the bottom part is used for shelter for our cows the same as generations before.
The Quilt Block:
Like the barn, quilting has been in the Shaw family for many generations. My mother, Lucille Shaw, was a master quilter and passed her craft to me. Her first and only pair of quilt frames were her mothers. While my mother was still young, my father made the frames for my grandmother. The piece that holds the two legs together was a wagon tongue. I have possession of these frames; however, my mother gave them to my daughter, Tina.In 1999, after my mother passed away leaving us 80 some feedsacks, I got the idea for us to each make a quilt from her sacks. I was the only one who had made any quilts but my 3 sisters and brother was in for the challenge. I cut out over 15,000 pieces to make all the quilts. There were 5 siblings, close family friend, some of her granddaughters and great granddaughters making quilts. Some of the younger ones do not have their quilts finished as they were very young at the time. There will be 3 generations who will have quilts made from Mom's feedsacks. These quilts were all hand sewn. The quilt pattern we used was called The Churn Dash. This is the block I chose to use for our Barn Quilt Block. It is read and white which is my favorite color as well as my mothers. My brother, Gerald Shaw, made 3 quilts ( not all from feedsacks ) before he passed away.
I would like to thank Brian Sullivan, Sullivan's construction for putting the block up for our family. That was quite a job for him to do and we appreciated his hard work and time.
And lastly, thank you for letting our families, The Layton's and the Shaw's be a part of the Fulton County Frontier Barn Quilt Trail.
Helen and Bob Layton
Tina and Bob Crawford
Alan and Ann Layton